Ultherapy's name recognition is unmistakable. With celebrity endorsements and ten years' worth of marketing and advertising, you've likely seen Ultherapy on top medical and entertainment news shows. While Ultherapy was cutting-edge, being the only procedure to use ultrasound technology to lift and tighten skin on the face, neck, and chest, technology is rapidly evolving. More options exist, and you'll likely find that a different approach to face lifting and tightening is right for you.
One such option is Sofwave, a skin tightening procedure available here at New Jersey Plastic Surgery, which uses ultrasound technology to tighten skin on the face, neck, and chest. Let's explore Sofwave vs Ultherapy, in addition to other face lifting techniques which offer results via non-surgical, minimally invasive, and surgical applications.
What Do Sofwave and Ultherapy Have in Common?
Both ultrasound-based skin lifting and tightening procedures are FDA-cleared non-surgical treatments that require no downtime and provide results after just one treatment. So what are the major differences, and why do we prefer Sofwave over Ultherapy at New Jersey Plastic Surgery?
Sofwave focuses on skin quality and elasticity over muscle tightening and lifting. While Ultherapy is cleared to affect the muscle layer, we find that patients who require that level of lifting would benefit from minimally invasive and/or surgical procedures. In our experience as plastic surgeons, the end result for our patients is superior.
Sofwave offers more value to patients, with the cost being roughly half of what practices typically charge for Ultherapy.
Sofwave is a faster treatment, taking approximately 30-minutes to perform. Ultherapy takes a full hour to complete, depending on the size of the treatment area.
Sofwave results typically appear more quickly than with Ultherapy.
Yes, Ultherapy has the name recognition and ten years' worth of media and celebrity buzz, but our focus is on patient outcomes, not hype.
That is not to say that Ultherapy is not beneficial to some patients. However, the majority of our patients who would need something more akin to Ultherapy and the deep muscular effects would have a better result from minimally invasive procedures like MyEllevate, facial plastic surgery, or a combination of the two along with non-surgical options like Sofwave.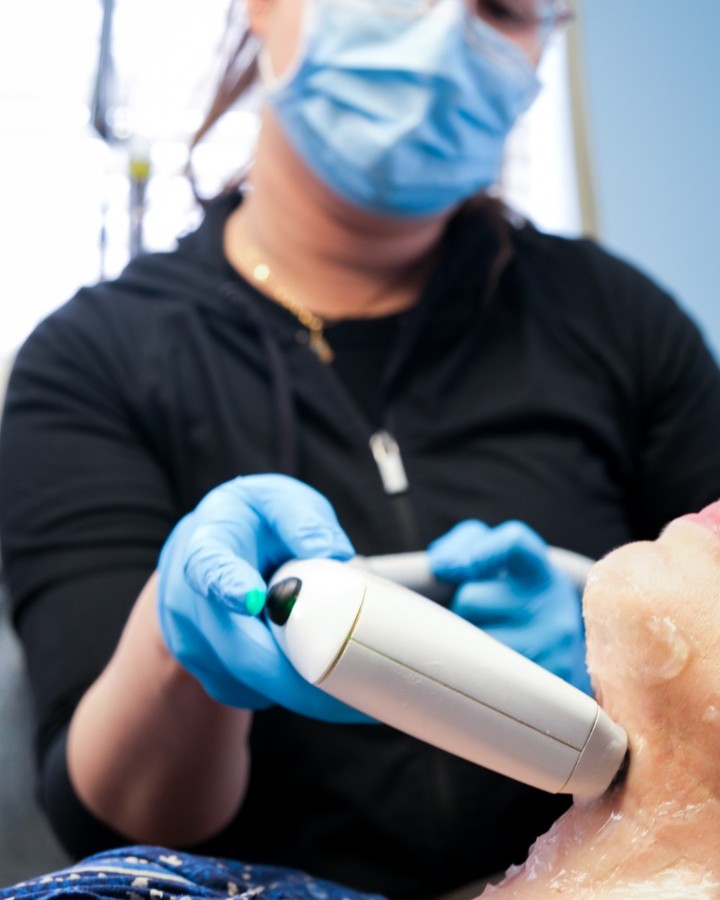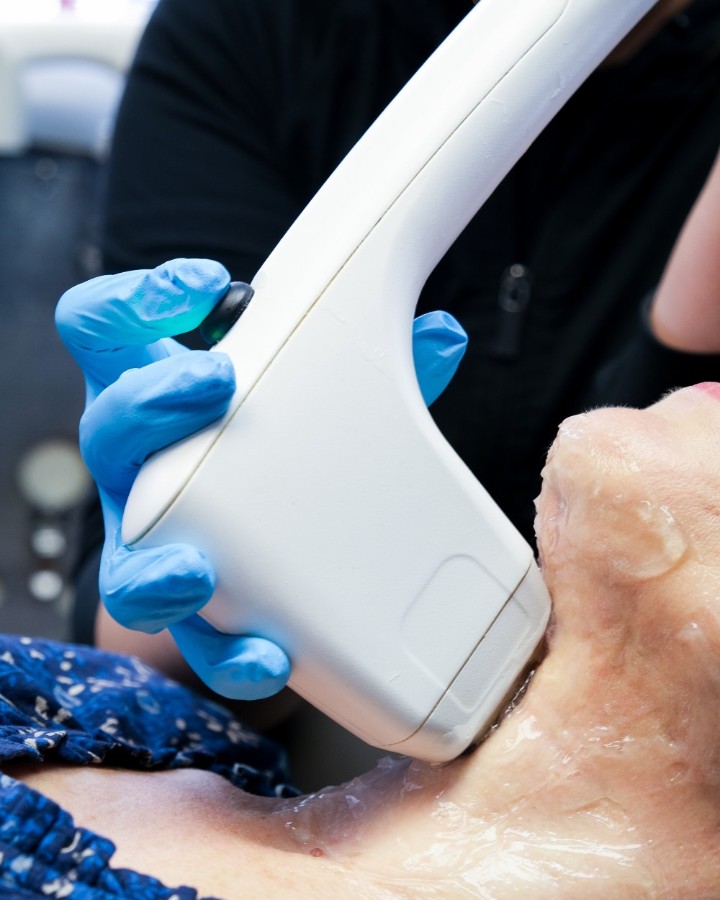 Who is a Good Candidate for Sofwave?
Sofwave is a great option for anyone looking to tighten their skin without surgery. It's a non-invasive treatment that is safe and effective. If your concerns are more surface-level, Sofwave can be a great way to keep your skin looking tight, lifted, and youthful for longer. It's also a great way to enhance your results following facial plastic surgery or a MyEllevate procedure.
What if I Need the Muscle Lifting and Tightening? What Procedures, Besides Ultherapy, Are Right For Me?
For deeper face lifting, we often recommend a combination approach of minimally-invasive and surgical procedures, depending on your needs. Not everyone needs surgery, however, so you may be a good candidate for a minimally-invasive procedure. We can combine with other treatments like Sofwave, Potenza RF-microneedling, and lasers to address skin laxity, texture, and tone.
The bottom line is that every patient is different, and so our approach to your care must be catered to your needs and goals. We determine these during your personalized, comprehensive consultation where we will:
Discuss your concerns and what you'd like your final result to look like
Review your medical history, including cosmetic treatments you've received in the past, medications you're taking, and any health conditions that may impact the safety and results of different procedures
Examine the treatment area to understand the underlying cause and how to achieve the best results for you
Can I Get Another Procedure at New Jersey Plastic Surgery After Getting Ultherapy at a Different Aesthetic Practice?
If you had an Ultherapy treatment in the past, you can also get a procedure here at New Jersey Plastic Surgery. We will review when you received your Ultherapy treatment along with your experience during and following the procedure to determine what procedures will benefit you and when you can have those performed.
Other Options for Skin Tightening on the Face and Neck
In addition to Sofwave, we offer other non-surgical and minimally invasive procedures to help you look and feel your best. These include:
MyEllevate
Potenza RF Microneedling
Morpheus8
EmbraceRF
FaceTite
Mini Facelift
Facelift
Neck Lift
Why Choose a Plastic Surgery Practice for Non-Surgical Procedures?
Non-surgical cosmetic procedures are increasing in popularity, primarily because they offer little-to-no downtime and natural-looking results. While you may be a good candidate for these procedures, it's important to consult with a plastic surgeon who can give you a true assessment of how you can achieve your goals.
When you visit with a non-surgical provider, their recommendations are limited by what they are able to provide. While the best medical spas will tell you that a non-surgical procedure isn't going to achieve the best results and refer you to a surgeon, not all practices will do this. This has led to many people wasting money on procedures that were never right for them.
When you see a plastic surgeon who offers both surgical and non-surgical procedures, you have a greater chance of receiving an accurate assessment with the best recommendations for your needs and goals.
New Jersey Plastic Surgery in Montclair, NJ, offers surgical, minimally-invasive, and non-surgical cosmetic procedures for the face and body, with a wide range of options for our patients. This ensures you receive the top-notch care and results you're seeking.
Schedule a Consultation Today
For non-surgical skin tightening, facial plastic surgery, and everything in between, schedule a consultation in our Montclair, NJ, plastic surgery practice. Drs. DiBernardo, Trovato, and Turer, along with our team of expert aesthetic providers, will advise you on the best treatments for your needs, assuring the best outcomes. Contact us today to book a consultation or to learn more about our practice and get your questions answered by a member of our staff.